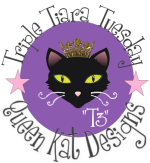 Golly, it's that time again already! The months are flying by. This week's challege is a little whimsical. Here is the inspiration.
I'm working with Steampunk Kitty this month so I used the colour scheme as my inspiration.
If you would like to join in with this week's
Triple Tiara Tuesday,
jump over to the
QKD
blog for all the details. The best news is that
QKD
2will offer up a $25 stamp gift certificate for the players to compete for each month. So if you enter each week, you will have 4 chances to win the monthly prize of $25.
Good luck!