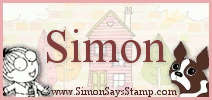 This week's challenge for Simon Says Stamp is Tim Holtz inspired project. I love his style but it elludes me mostly. I haven't done any collage stuff forever. So I found it a bit of challenge to get my mojo started.




I have used the wrinkle-free watercolour effect that Tim uses. This is where you put the ink onto your craft sheet and spritz. I have forgotten how much fun this is - playing with my inks has really rekindled my desire.




The lock plate is made from Fimo - left over from a project I did for Scrapbook Inspirations a few months back. I've added some moonglow powders to make it shimmer.
I must also mention the Scrappy Shack. This Etsy shop has the most gorgeous and interesting die-cuts I've ever seen. Better still, they're have blog-candy for one lucky person. Pop over to have a look!
Thanks for stopping in.

Morag x