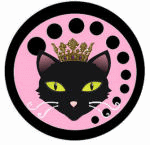 Sometimes simple designs can be just what you need when you need to make a card in a hurry. Having a go-to design is a great way to rustle up a beautiful card in no time at all.
For this design, I added a faux photo corner which has been peeled back to allow some flowers to nestle in the aperture created. Making the photo corner couldn't be easier.
Simply cut out a right-angled triangle (the sides of mine were 3" long). Turn so that the point is at the top with the long side at the bottom (my geometry is rather rusty). Find the centre and make a small cut towards the point about 1" long. Curl these edges back to create an aperture. They're a great place for grouping flowers together on a card.
Piper is coloured with Copic Markers
Dress: R81, R83, R85, C1, C3, C5