Do you ever get that lucky feeling? I don't, but this week I feel I have good fortune running through my veins. I got a couple of cheques in the post over the weekend - one from the tax man! So not lucky but something nice and unexpected - even if it was for less than £50.
Then
Elzybells
have celebrated their 5th birthday with a give away to one lucky customer and guess what? I got picked! Now that is good luck. I hope that I get something I can share because I'd like to share it with Kay who is a HUGE Elzybells fan and she was the one who introduced me to their stamps.
So I have bought 2 lottery tickets today. I'm convinced that I'm going to win BIG on the lottery this weekend! I won't win the jackpot but something big! Ha! I'll be back here on Sunday with my tail between my legs. LOL.
Anyway, less wibbling and more projects please. I have a load of stuff to share with you.
Let's start with my challenge at
AllyScraps
.I've challenged you to use an accessory in a different way or make your own. Here are my 2 efforts:
I just love these papers by
My Mind's Eye
. I have a bunch of scraps left so I'm happily making more projects with the left overs. Joy.
I stamped on the letters and blossom to customise them. One of my favourite techniques.
I used The Daily Grind Collection from
Fancy Pants
to document Jacob's favourite things at the moment. I've been making a favourites layout every now and then so I can see how things change.
I have had a very happy time making projects for
Sugarplum Paperie
. This time I've create a little 'handbag' and notelets using the
Lime Twist
kit.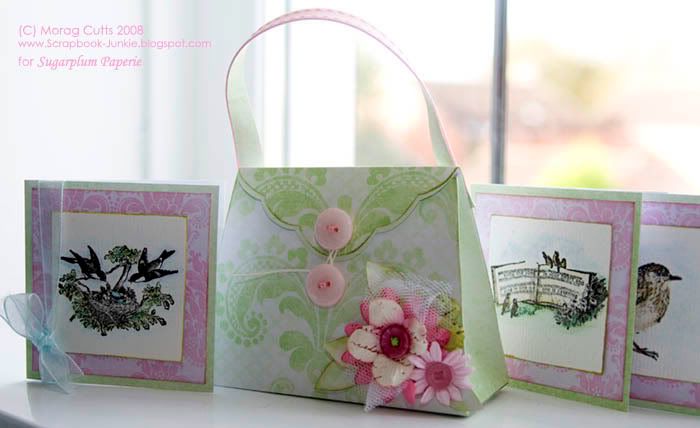 I have to say the paper is a match made in heaven. When you look closely, it looks as though you've stamped the damask print so it matches up with the sides of the bag.
I've used Prima and Bazzil flowers which I stamped on first (told you it's my favourite technique).
The birdies on the notelets are from Crafty Secrets. I've had them forever but I have never coloured them in before. I'm so liking them even more now.
We're all set for our workshop on 9th November. Take a look at the lovely kit...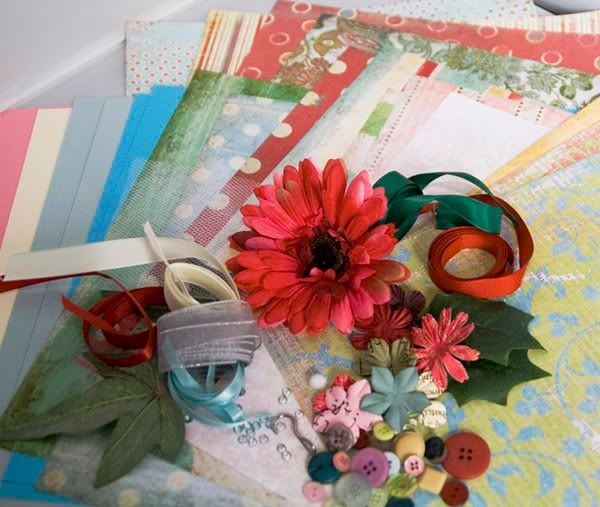 There are a whopping 14 patterned papers, 6 cardstock, Prima flowers (aren't they lush??), ribbon, buttons from Autumn Leaves (my favourite). This is going to be so much fun! I've a feeling though that everyone will be making layouts instead of the calendar. LOL. I think I'm going that way too. I'd want them to go straight into an album.
Take a look at one of the techniques we'll be covering. This is a sneaky peak of November.
It's a technique that Kary Lewis showed us on the
AllyScraps Blog
and I LOVE it!
I think my project for Papercraft Inspirations is out this month. WOO HOO! It is one of my most favourite projects I've done. I'll put it up as soon as it is in the shops.
So that's all folks. It's almost Halloween. Time to do some haunting...
Happy scrapping.
Morag x