Funny how you go at full pelt one minute and then completely loose it the next. Well not completely. And I don't mean my mental health either. I was scrapping like I was on a mission, I got loads of layouts done over a 4 week period then nothing. Nada. I have about 3 layouts sitting there waiting for something. Just not sure what yet.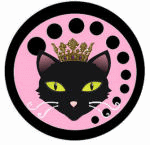 So I thought I'd share I card I made for
Queen Kat Stamps
which I received my very first stamps this week. My first one is called Pisces - she is adorable. I am also a Pisces but I don't share the same legs obviously!
I haven't done any colouring for a while, so I've stuck to the colours I know. I've also tried out my new lens so I'll need to get to grips with that.
If you want to see the colours I used, details are on the
Dark Ink Sorority
Blog. I'm going to be back to tomrrow with my contribution for Pencil Lines.
Thanks for popping in.