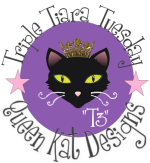 Queen Kat Stamps
host a challenge each week and this week is my turn. Our challenge is to create a card using the following image as inspiration:
WOW! Those really are killer heels! If you look closely, there is just so much detail and bling that it makes your eyes water!
Here's my take. I've used the fabulous Sadi image by Myka.
I wanted to use her punk, edgy style to create a card full of texture and definitely not too girly. My bling elements have included glitter card, pearlescent card as well as silver sequin waste and card candy.
If you would like to join in with this week's
Triple Tiara Tuesday,
jump over to the
QKD
blog for all the details and visit
Jeanie
and
Holley
for more inspiration. (Leave us some love and a link to your project so we can return the favor. *wink*)
The best news is that
QKD
will offer up a $25 stamp gift certificate for the players to compete for each month. So if you enter each week, you will have 4 chances to win the monthly prize of $25.
Good luck!